Women's Fund Celebrates 25th Annivesary
November 17, 2021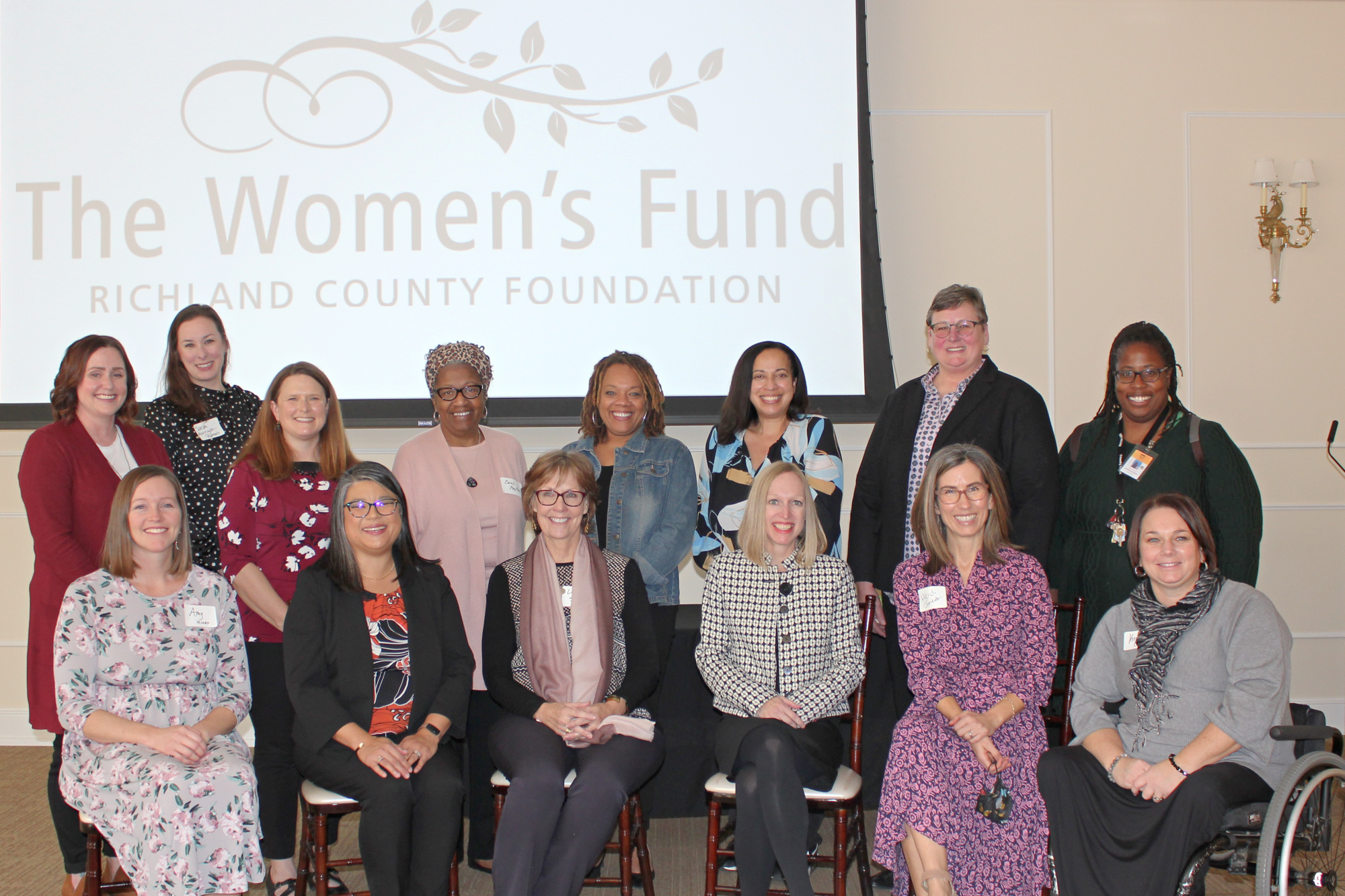 Photo: Women's Fund Advisory Committee members left to right front row: Amy Hiner, Margaret Lin, Linda Smith, Elizabeth Daniels, Heidi Jones, vice-chair, and Kristine Lindeman, chairwoman. Back row l to r: Nikki Lewis, Sarah Horrigan-Ramos, Amy Brunell, Carol Payton, Deanna West-Torrence, Brigitte Coles, Debra Weaver, and Veronica Williams Payne.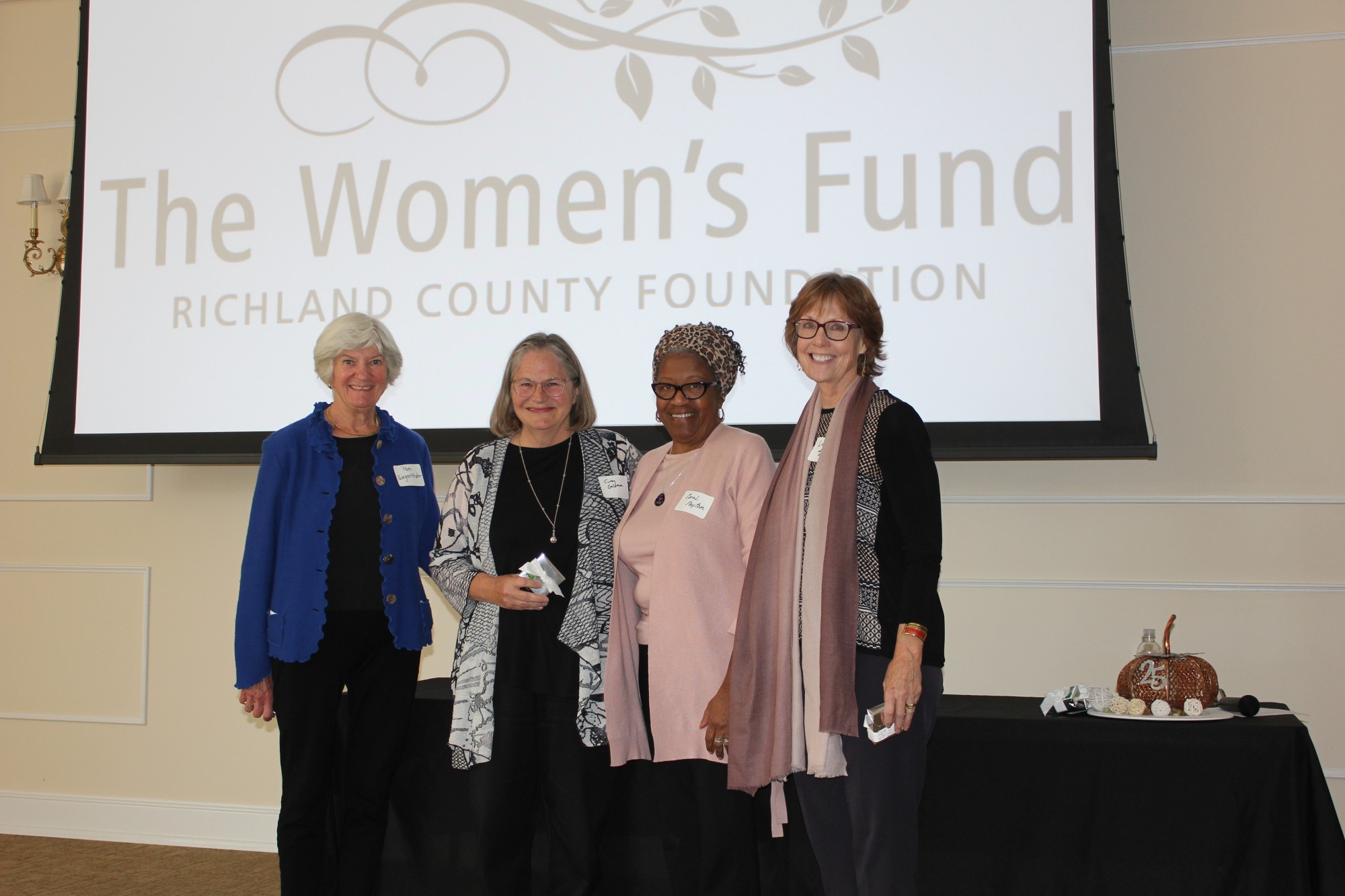 Photo: Pam Siegenthaler, Cathy Goldman, Carol Payton, and Linda Smith were among the 10 founders of the Women's Fund.
The Women's Fund of the Richland County Foundation recently celebrated its 25th anniversary and awarded its annual grants.
The Women's Fund, established in 1996 as a permanent endowment, has grown to over $2 million. The WF has awarded close to $484,000 in grants impacting hundreds of lives. The original founders were Linda Smith, Suzanne Davis, Dr. Erin Fain, Catherine Goldman, Carol Goldman, Edith Humphrey, Joanne Humphrey, Carol Payton, Bets Risser, and Suzanne Wilson. The founders were recognized and given a 25th-anniversary necklace to mark the occasion.
For the third year in a row, the WF awarded $25,000 to Richland County Youth and Family Council for the childcare initiative. RCYFC has matched the $25,000 each year of this project. In its strategic plan, the Women's Fund is committed to making quality childcare affordable and accessible to all women.
This year the grant will continue the mentor program for in-home providers with a focus on early literacy development and social/emotional development. The pandemic has caused disruptions in children's lives. The Childcare Committee reached out to Catalyst Life Services to engage their early childhood mental health staff to work with the YWCA to engage in-home providers in expanding the trauma training. The program will strengthen women economically by helping them learn business skills for their childcare operation.
Other grants were awarded to North End Community Improvement Collaborative for its Empower Me mentoring program, the Altrusa Club for buddy bags for homeless students, the Ohio State University at Mansfield for its Hand in Hand: Strategies for Resilience and Networking for Diverse Women program, Mansfield Senior High School Girls Volleyball Team for a nutrition program, Crossroads City Center for Girl Talk, Mansfield Area Y for Female Empowerment Self-Protection class, and Love on a Mission for its Fly Your Flag program.
The WF announced the JoAnn Dutton Volunteer Community Service Award. The award was named in honor of JoAnn Dutton, former executive director of the Mansfield YWCA. It celebrates and honors women who devote a significant amount of time and energy in a meaningful way to local charitable organizations.
This year's winner is Linda Smith. She served on the Richland County Foundation Board of Trustees, where she was the second woman to serve as chair, the Mansfield Area YMCA, Planned Parenthood, MedCentral Mansfield Hospital Auxiliary, Avita Health System, Park National Bank, and the Malabar Farm Foundation.
But one of her most notable acts of volunteerism is the creation of the Women's Fund. She wanted to direct funding in Richland County to empower women and girls. She did her research and brought together a group of women to start the Women's Fund.
« Back to Blog