History
The Richland County Foundation was founded in 1945 by a group of seven community leaders. These original founders were inspired by local philanthropist Anna Scattergood, who had created a fund to benefit poverty-stricken elderly and terminally ill residents in Mansfield. It was with the guidance of D. Osborne Meese that the Foundation was established.
The Richland County Foundation was modeled after the Cleveland Foundation and was created as an independent nonprofit organization that could accept and administer charitable gifts and bequests, regardless of size, for the benefit of the local community.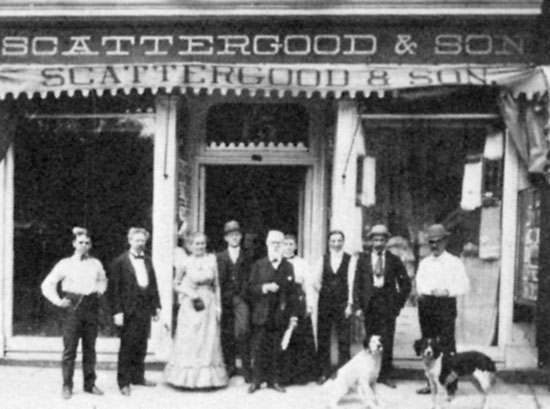 Scattergood and Son dry goods store in downtown Mansfield on North Main St.
Richland County Foundation Founders
| | | | |
| --- | --- | --- | --- |
| | | | |
| D. Osborne Meese | Paul R. Tappan | Norman L. Wolfe | Scott F. Coffin |
| | | | |
| George W. Stephens | John H. Finefrock | Robert B. Black | |
The mission of the Richland County Foundation is to improve and enhance the quality of life in Richland County through strategic philanthropy and community leadership.
To accomplish our mission we will:
• Provide Leadership and act as a catalyst in identifying and addressing emerging community needs.
• Distribute Grants for charitable purposes in the areas of Health, Economic Development, Basic Human Needs, Education, Cultural Activities, Environment and Community Services.
• Prudently Manage the Foundation's resources to achieve the maximum benefit for Richland County in perpetuity.
• Identify and Cultivate Donors of all economic means and charitable interests.
• Assist Donors in establishing funds to meet community needs and distribute proceeds in accordance with the donor's intent.